If you online shop a lot, you know the importance of customer reviews. Reviews give you a personal testimonial on the fit and feel of a dress. It can help you determine whether to size up or down. You can also learn a lot about how a company treats its customers by reading a well-written review.
Not only do we understand the effectiveness of a customer telling another customer their opinion of a clothing item, but it also helps us improve our business practices. If we receive a review that praises a certain temple dress style, our team will try and design future dresses using features our customers know and love.
On the other hand, if a disgruntled customer sends in a rating explaining their frustrations, our team will work hard to rectify the situation. Every review helps us learn and grow.
Most importantly, these reviews are there to point you in the right direction. That is why we compiled a list of the top five best-reviewed LDS temple dresses on our site.
Here are those fan favorites with an included customer review. The first review was sent over email by Gloria J. of California. Hopefully, Gloria and the other four online reviews will help you determine which style and size would work best for your next LDS temple visit.
Madrid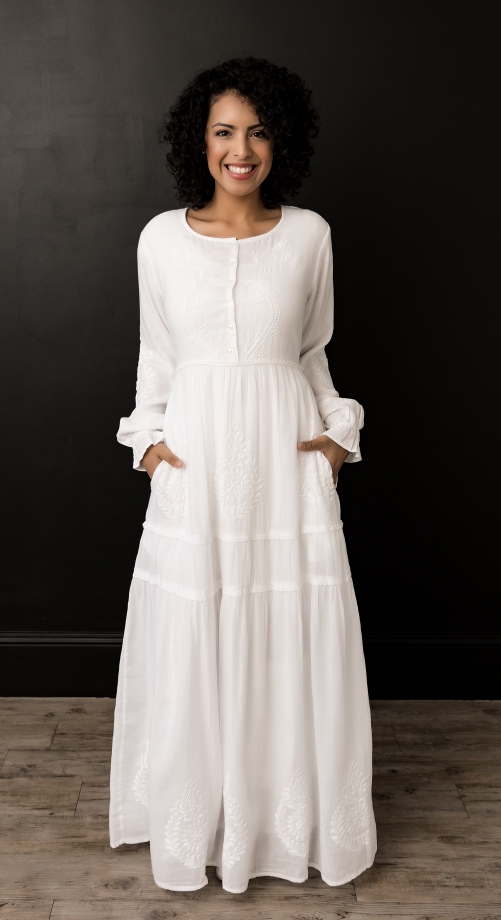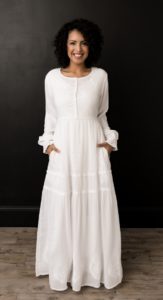 "I'd like to say Thank You to White Elegance for their comfortable, stylish, and well-made temple dresses and accessories. I am a size 3X. I am also quite tall. I was always uncomfortable in my personal temple dresses. After finding White Elegance, I was impressed that they carried beautiful styles in my size!! I decided to give it a try. I ordered the Madrid in cotton. It was so lovely, and even my husband complimented me on how pretty I looked! It is also so comfortable! (I feel like I'm wearing a comfy nightgown!) I am so glad that I gave them a try, and now they have my business. Since then, I've bought temple dresses for new brides or sisters going through the temple for the first time. Their comments have always been something like, "Thank you so much for the beautiful dress. I felt like a princess." The dresses also wash up beautifully and look just like new after many washing. When I bought my dress, I also treated myself to a new temple bag. It is well made and perfect for all of my temple clothes. It's easy to handle and lightweight. Thank you again, White Elegance, for your beautiful temple dresses and accessories. I'm so glad I found you!!!"
–      Gloria J. CA
Sedona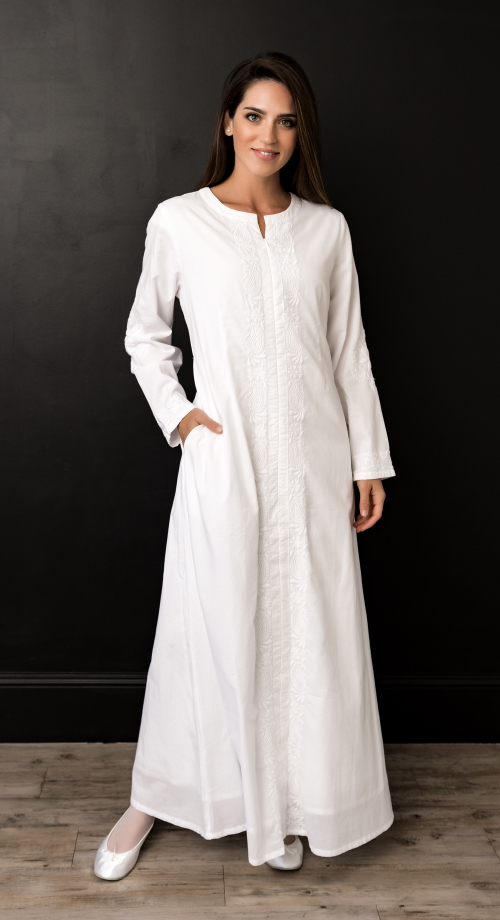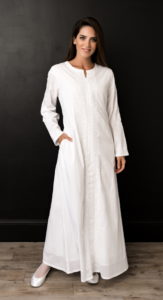 Rated 5 out of 5
Janie B – April 22, 2020
Because of the temple closure, I have not worn the dress yet. However, after trying it on, as I recall, I like the cotton material. I will wash it and hang it to dry. I am an apple shape, so I like the style as it glides over the body. Looking forward to returning to the temple.
Belfast Set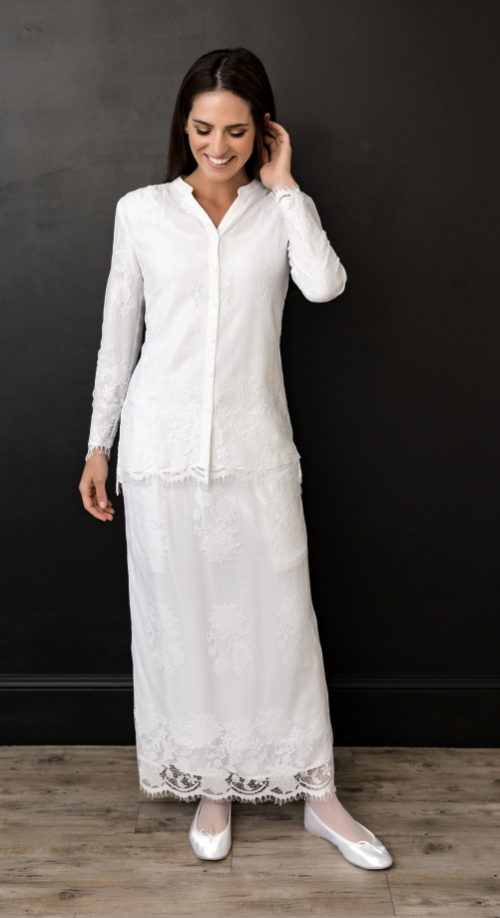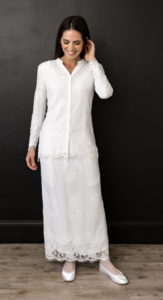 Rated 5 out of 5
Carol B. – February 1, 2020
Love this out of the package. I wore to serve in temple and received many compliments. I can't remember if it comes in petite. I think it would be difficult for a short person to wear as I don't think you could shorten the top. I may be wrong. I am 5'8″ and ordered my normal Medium and there is plenty of room (I am probably in between medium and small in this style). I generally wear a medium. It is elegant and looks like easy care.
London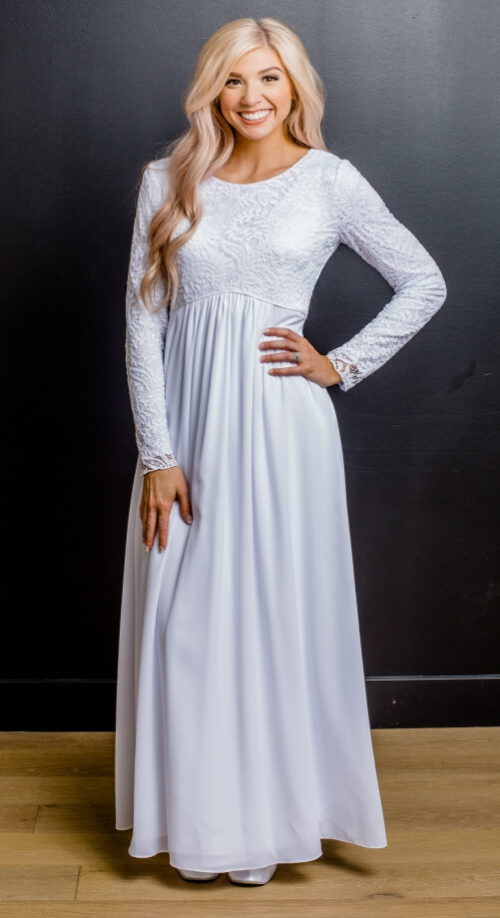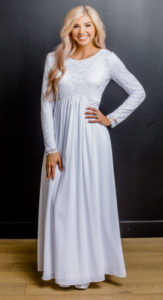 Rated 5 out of 5
Jan – April 16, 2019
Love my London dress. I bought an XXS but wondered if an XS would be better, so I took my dress to the store. They didn't have an XS but since I live out of town they let me go to the factory just down the street to try one on. Ended up liking the smaller one best, but didn't need to make an extra trip to find out. Lovely staff!
Helsinki Set
Rated 5 out of 5
H.Ortiz – May 29, 2019
I love this style and set. I'm very short in stature so I always have to hem any temple clothes that I buy to the length that I need. But I was pleasantly surprised with the length. No hemming needed. No adjustments needed. I'm taking this outfit to Australia to wear in the Sydney temple at my nieces sealing in October 2019.
LDS Temple Dresses at White Elegance
If you are looking for an outfit for your temple sessions, count on White Elegance. Our white temple clothes, LDS wedding dresses, and special clothing designs include styles that compliment women of all ages.
Our temple skirts, blouses, and dresses consist of easy-care, washable fabrics that resist wrinkles. All designs have been tested, marketed, and have received overwhelming praise. Our items make wonderful gifts for birthdays, anniversaries, bridal showers, and holidays.
No matter the occasion, White Elegance would be honored to do our part. Browse our collection of women's dresses, clothing for men, children, and other specialty items on our site.
You can also visit one of our three Utah showrooms in Centerville, Murray, and Orem. These locations carry a complete line of LDS Temple Clothing, white skirts, tops and shoes, baby blessing dresses and outfits, baptism dresses, pioneer and prairie costumes approved for Youth Trek, modest Sunday dresses, and more.
Visit us today to find the perfect outfit for your upcoming temple visits. We look forward to seeing you.