When it comes to LDS temple dress patterns, White Elegance knows a thing or two. After years of experience working with women visiting the temple for the first time or updating their temple outfit, you begin to understand what makes a temple dress perfect.
Our team is continually asking our customers what they like about individual styles, how the temple dress patterns can improve, and more. Over time your feedback has led the way to a collection of popular LDS temple dress patterns. Not only have we updated the designs but worked with dressmakers to customize fits.
Whether it is using comfortable material, finding flexible fabrics, including pockets, drawstrings, or something unique, White Elegance has a variety of LDS temple dresses that make ever temple session memorable. Let's look at each of our most popular LDS temple dress patterns and why our customers love them.
Most-Loved LDS Temple Dress Patterns
Finding the perfect dress for your temple visits isn't always easy. It can even feel like a massive challenge with no dress providing everything you need to make your sessions beautiful. While each temple dress is made to meet temple standards, there are key differences to each pattern. Here is an in-depth look at our top LDS temple dresses, including defining features, prices, comfortability factor, style, and more.
London #1133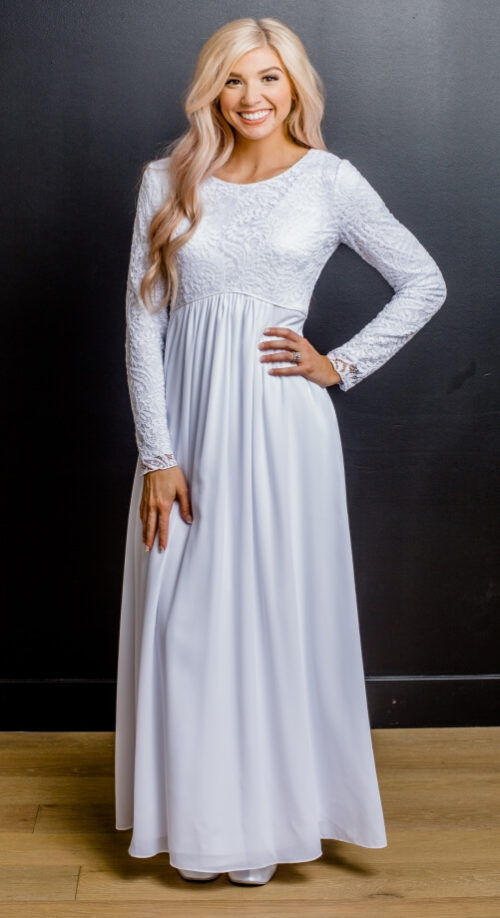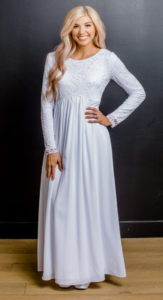 One of our most sought after LDS temple dress patterns in London. Not only is the dress absolutely gorgeous with lace paneling, but it is incredibly comfortable, as well. The soft, luxurious raised lace bodice flatters any body type thanks to its stretch material. The bottom half of the dress also features a sleek, draping fabric that pleats around the waist.
Altogether this LDS temple dress will exceed all your expectations. You will put it on at the beginning of your session and feel like you are walking on a cloud. Whether you are drawn to its subtle details or comfortable fabric, London is hard to beat.
Venice #1125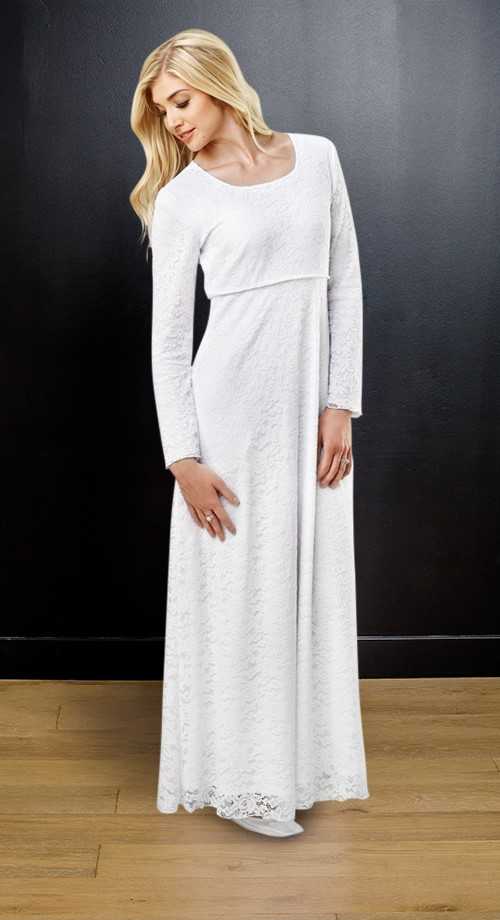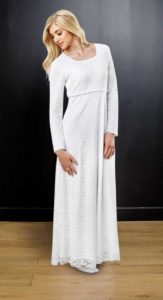 Another popular choice for our customers is Venice. This dress features an all-white stretch design made from the softest, lightweight denier fabric. The Venice #1125 White Elegance Dress is fully-lined, so you won't need to worry about immodesty during your temple visits either. You can put it on and look beautiful within seconds. It is also one of our most comfortable dresses, so you won't get tired of wearing it after a few hours.
The Venice dress also includes strategically-placed satin piping accents that give the entire dress an empire-waisted look. It also has two pockets, which is essential to any LDS temple dress pattern. You can wear this dress on your wedding day, through your endowment, sealing, or during any regular temple session.
Madrid #3056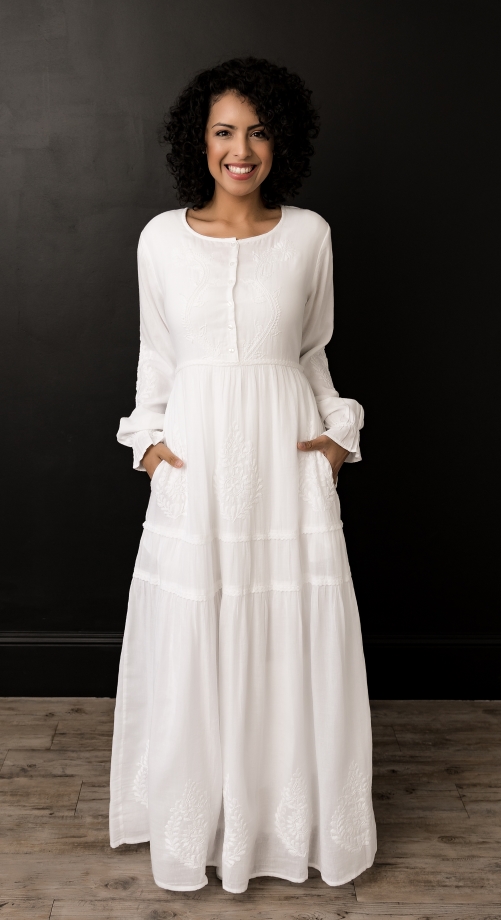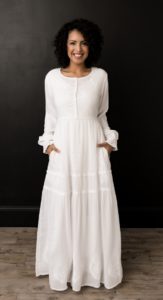 Rounding out the top three most popular White Elegance LDS temple dress patterns is the Madrid. Madrid is an all-white LDS temple dress that is made of 100% cotton and extremely lightweight. The defining design features of the dress is its button-down bodice, dropped empire waist, and unique embroidery. The dress is also fully lined and fits like a dream on women of all shapes and sizes.
If you are looking for a unique LDS temple dress pattern, then look no further than Madrid. One look at this dress, and you will understand why. Not only is it beautiful, but it also is a contemporary design that not many women wear. Another impressive feature is that the sizes of this dress and most of our other LDS temple dresses range from XXS-2 to 3XL-26.
White Elegance LDS Temple Dresses
Shop now by visiting White Elegance's online store. You can also contact our sales team to make an appointment to try on these styles and more at one of our Utah locations. Get in touch with us today to get started.