Baptisms are a special event for members of the Church of Jesus Christ of Latter-day Saints.
When you turn eight years old, you become a member of the Church of Jesus Christ of Latter-day Saints by entering into the baptismal covenant. This covenant can only be made when you reach the age of accountability at eight years old (see Doctrine and Covenants 68:27; Joseph Smith Translation, Genesis 17:11).
Baptism is the first saving ordinance a member of the Church makes to receive eternal salvation. Members believe that those who are baptized and keep their covenants are blessed for their faithfulness. Some of these blessings include:
The constant companionship of the Holy Ghost
The remission of sins
The privilege to be spiritually reborn
The promise of eternal life
You can decide to be baptized when you turn eight years old or as a convert to The Church of Jesus Christ of Latter-day Saints. If you choose to do so, you will be baptized by immersion.
Baptism by immersion means you are fully immersed in water by someone who holds the proper priesthood authority. That priesthood authority came directly from Jesus Christ and was restored through the Church of Jesus Christ of Latter-day Saints. This authority is later used on your baptismal day to give you the "Gift of the Holy Ghost" by the laying on of hands.
Preparing to be baptized requires faith. Your bishop will meet with you to discuss your decision and provide guidance. Together, you will decide whether you are ready to be baptized. If you choose to move forward, you will need to gather a few things before the special day. One item that we can help you with is your LDS baptism dress.
About LDS Baptism Dresses
If you choose to be baptized, you will reflect on that choice often. In fact, LDS church leaders council members to reflect on their baptismal covenant as they renew it each Sunday by partaking in the sacrament.
Many events that take place during your baptism are not a necessary part of the baptismal ordinance but long-standing traditions of the LDS church. For instance, LDS baptism dresses.
Wearing a white baptism dress is a traditional part of an LDS baptism. Unless you are wearing your dress for the baptismal ordinance itself, it is not required to wear white. However, a white dress is a traditional clothing item often worn by LDS girls and women before and after their baptism.
The white is symbolic of the covenant you will make during baptism. It reflects the light of Christ and being washed clean from sins.
For most church members, a baptism only happens once in their lifetime. The baptism dress should reflect the significance of the ordinance. It should not be an everyday dress but one that is special and unique.
While you will change into a white jumpsuit for the actual baptismal ordinance, you can expect to wear your white baptism dress for the remainder of the event.
Another expectation you can have on your baptism is taking a lot of pictures in your LDS baptism clothing and dress. These pictures will be special keepsakes that you can post on social media and pass on to posterity.
To help make your baptism special, we gathered a list of our favorite LDS baptism dresses.
Our Favorite LDS Baptism Dress Styles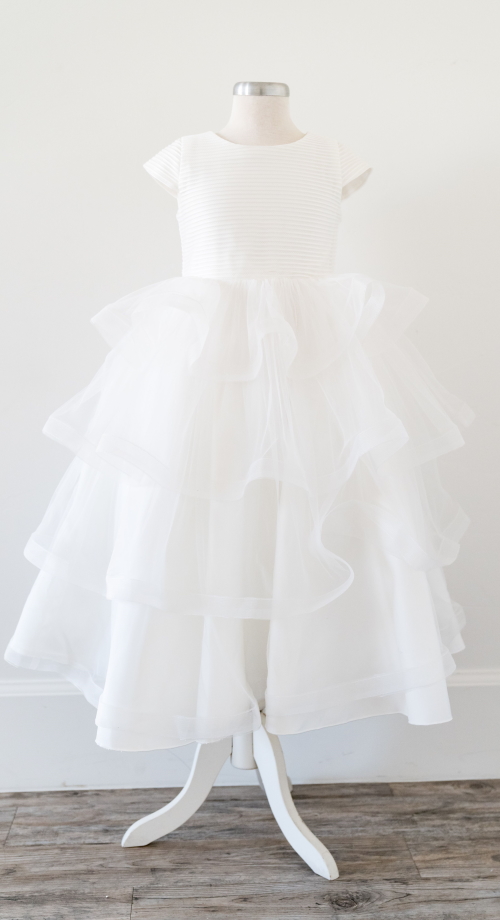 A customer favorite, Stardust features rich champagne netting and tulle layered over beautiful satin material.
The modest fit of the Stardust dress includes a natural waist, round neck, and traditional cap sleeve.
Add in the tulle bow that ties in the back, and this dress will be an unforgettable part of your little girl's baptism day. An elegant satin cord over lace mesh makes the bodice unique and chic.
Our team recommends pairing this tea-length LDS baptism dress with tights and white baptism
shoes. It will be simply beautiful!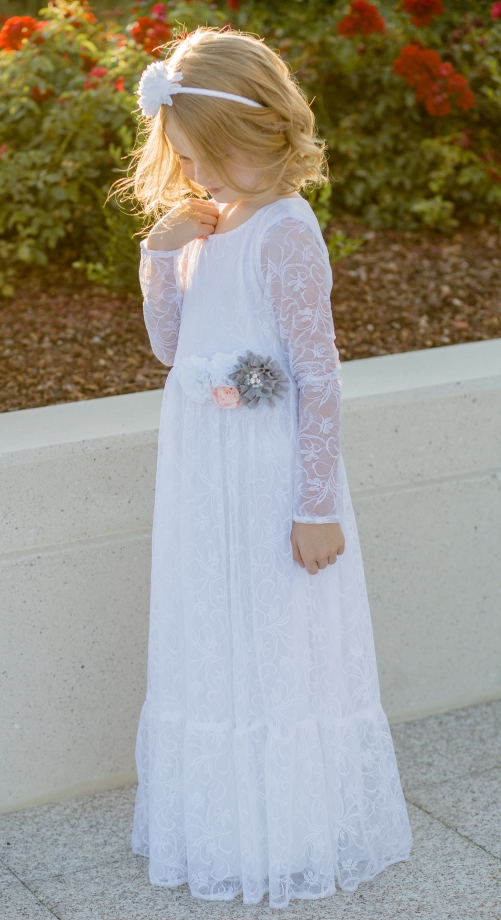 For the little girl who wants to look like she just stepped out of a fairy tale, Enchanted really is enchanting!
The delicate white lace covers the entire length of the fully-lined dress. However, our designers left the long sleeves sheer to accentuate the beautiful lace material.
The full-length and soft stretch make this the perfect option for girls that want to be beautiful and comfortable at the same time.
It even ties in the back for the perfect fit with a zipper for easy on and off dressing. The flowy fit and floral accents also lend themselves to twirls of fun.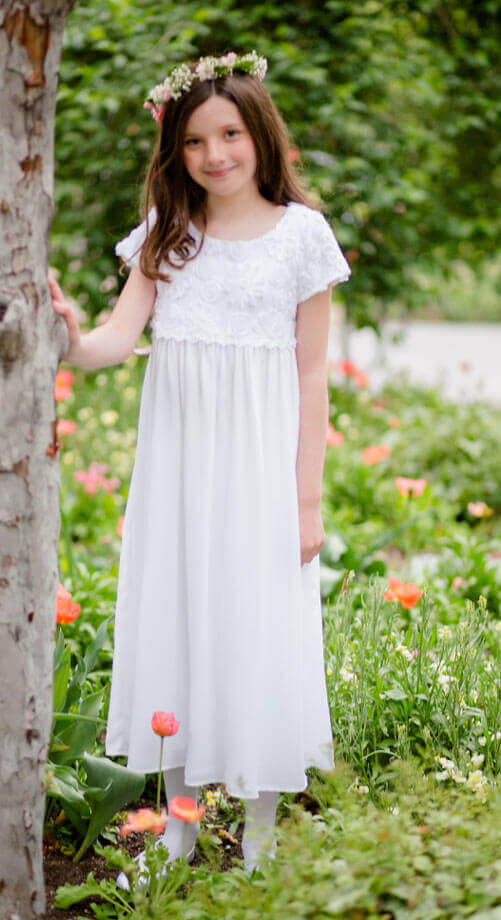 Speaking of twirling, if your little girl loves to spin around in circles when wearing a dress, Lady Bug is the dress to buy for her baptism.
Soft, yet chic lace lines the back and front of the bodice and sleeves for upscale style. Sheared soft chiffon cascades down the lower half of the dress for a simple finish. Tied in the back.
The dress's empire waist makes for the perfect fit on any sized girl—petite or full.
Combine this white baptism dress with simple jewelry for the perfect touch.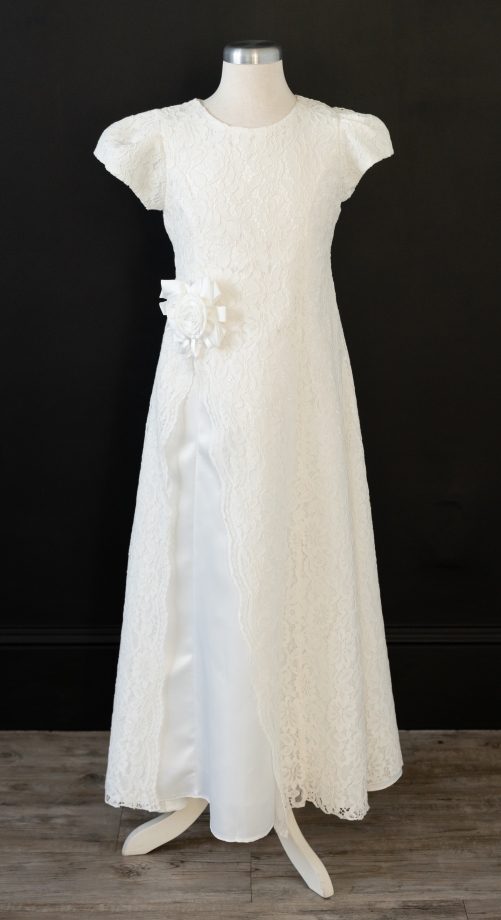 Make your little girl's day extra unique with our antique white baptism dress. Styled in a princess seam style with pleated cap sleeves, this classic dress nods to traditional 1920s fashion.
The baptism dress's corded lace layers over a beautiful satin lining. An elegant fly-away opening exposes beautiful satin under the scalloped trimmed lace.
A popular choice for LDS baptisms, this fit, and flare tea-length dress will bring a smile to the face of any little girl.
Accentuated with a coordinating satin flower and inset pearls, the Day Dream dress ties in the back for a perfect fit.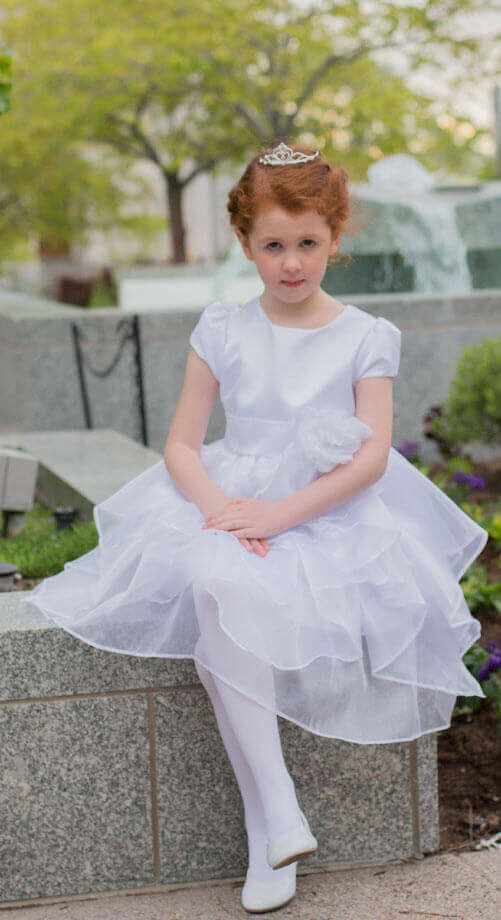 Your little angel deserves a beautiful dress for her baptism day. Our Marshmallow Cream dress features the traditional special occasion fit we all know and love.
A cute, attached flower at the waist is simply luxurious and adds just enough flare to make this a top pick for young girls' baptisms. Did we forget to mention the beautiful tulle that hits right below the knee? It is the perfect fit for our petite and fuller-sized girls.
Grab a pair of our tights, ruffled organza socks, and white baptism shoes, and you will have everything you need for the upcoming event.
Other Baptism Accessories to Consider
There is a lot to think about when planning a baptism. Along with finding the perfect white baptism dress, you might want to add a few accessories.
Here are some of our favorites to make the day even more special:
White Baptism Shoes
Headbands & Jewelry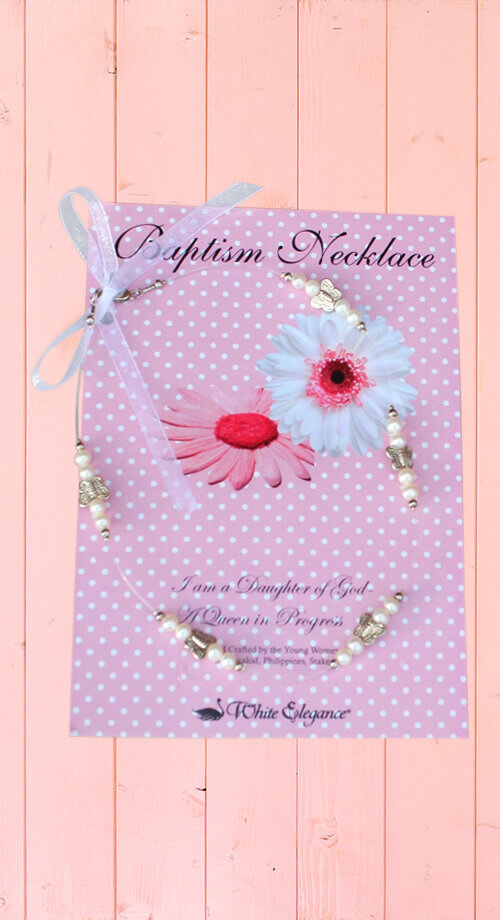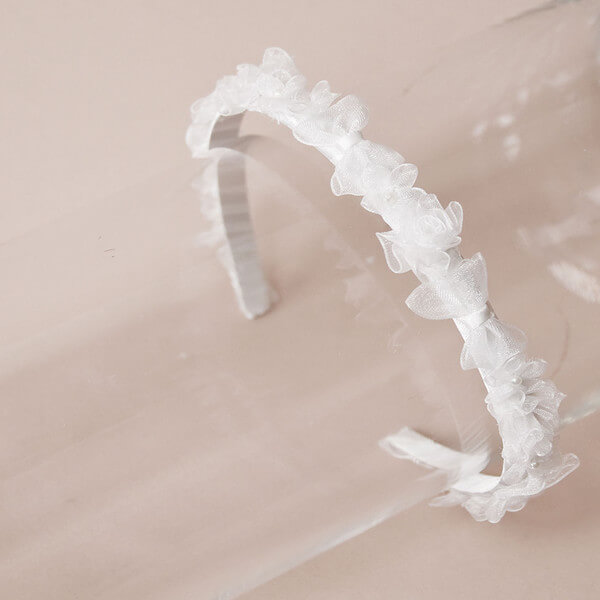 Baptism Towel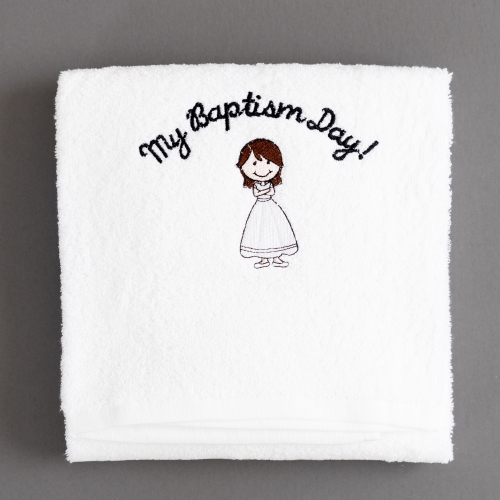 Girls Baptism Dresses at White Elegance
With a few LDS baptismal dresses to consider, it is time to start shopping. You can browse White Elegance for a selection of white baptism dresses, including the dresses above. No matter what you need to make your baptism special, White Elegance is the Utah dress shop for you.
View our full selection of Mormon baptism dresses and clothes. We offer a wide variety of styles and sizes to ensure your little girl feels beautiful on her big day.
Find everything you need at White Elegance. Shop online or visit us in-store.
For more information about LDS Baptisms, please visit the Church of Jesus Christ of Latter-Day Saint website.