Every bride dreams of wearing a wedding dress that expresses her personality and love.  Whether dresses in lace, satin, or chiffon, your wedding dress should be everything you asked for and more.
When a bride plans their big day, the wedding budget may be a primary concern.  Discussing money might be your least favorite part of the entire wedding planning process (and we don't blame you), but there are amazing options at every price point.
One of the big-ticket items for many brides is the wedding dress.  You and your wedding dress will be the focal point of the entire day, so you want to feel beautiful while being comfortable and able to breathe.
Even if you are planning a wedding on a tight budget, you deserve a gorgeous dress that meets all your bridal gown criteria.  Luckily, you don't need to sacrifice quality and style to get the dress of your dreams at a budget-friendly price.
Are you hoping for a delicate lace overlay?  No problem.  Prefer long sleeves?  Short sleeves? Do pockets excite you?  We have you covered.
White Elegance has created a list of affordable lace wedding dresses to ensure every bride feels beautiful on this important day.
LDS Wedding Dresses Under $100
Springville Bridal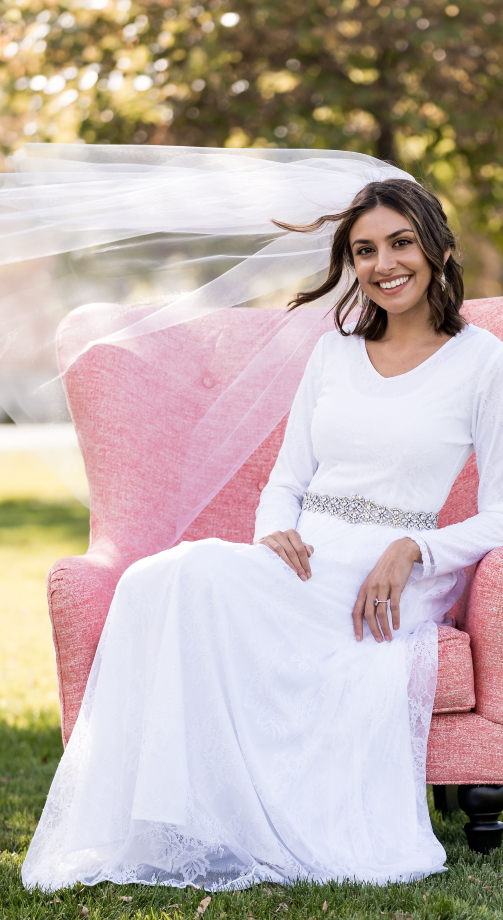 Delicate French corded lace brings a hint of sweet romance to this natural waist gown.  The most affordable wedding dress from White Elegance, this stunning dress finishes its short or long sleeves (your choice) with a Venise lace trim.
You can keep it simple without any accessories, or style this gown with a rhinestone and pearl belt and cathedral length veil or a simpler ribbon belt and finger-tip length tulle veil to make it your own.
Tell us how long you want the sleeves and your wish becomes our command.  We can do a custom cap sleeve, mid-bicep, elbow-length, or three-quarter sleeve.
The Springville Bridal wedding dress comes with two pockets to keep your lip gloss or tissue handy throughout your big day.
A Simple Affair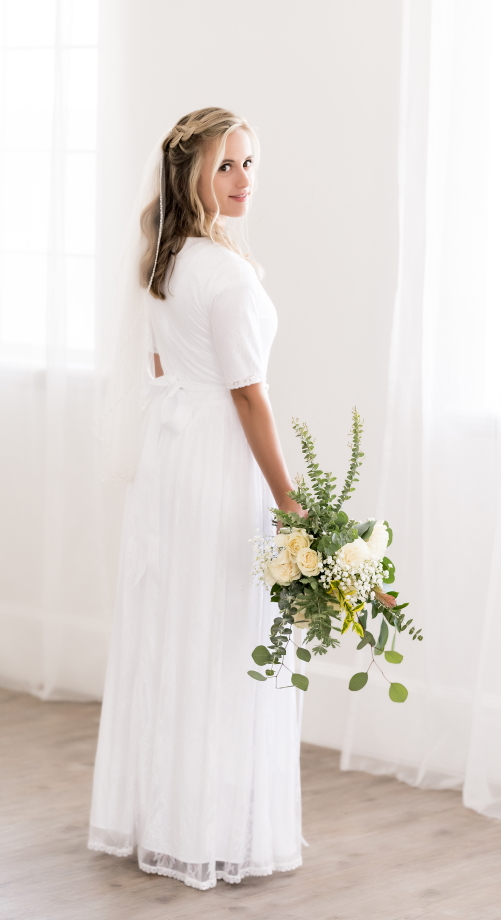 Angelic describes this V-neck lace dress.  A Simple Affair is ready for your wedding at the foot of the mountains or downtown Manhattan.  Perfect for the woman with a budget.
A Simple Affair is the Springville Bridal dress with a 10-inch short sleeve finished in delicate Venise trim lace.  With its short sleeve, lightweight lining, and train-less skirt, this dress is perfect for a minimalist summer wedding.
For this photoshoot, we finished the hem with more trim lace and added a simple tulle veil finished in glass beads and a lace belt we embellished with pearls and rhinestones. Some colored heels (or cowboy boots) and your favorite earrings will make it all yours. Best of all, it's affordable for any budget.
Venice Bridal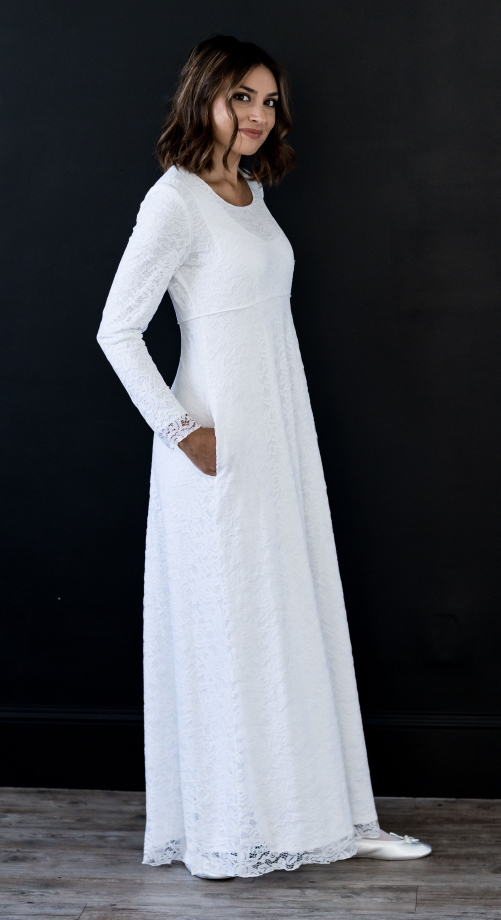 Brides looking for a figure-flattering wedding dress will have met their match in the Venice Bridal gown.  This affordable long-sleeved lace wedding dress features an empire waist finished in delicate white satin piping.  The empire waist and stretch floral lace embrace curves as it skims over the body with flawless elegance.
Perfect for your ceremony and backyard reception.  Finish with a fresh floral wreath in your hair and a bouquet for your hands.  You can keep some mints in one of the two deep side pockets for greeting all your guests and kissing your groom.
Wedding Dresses Under $150
Marseille Bridal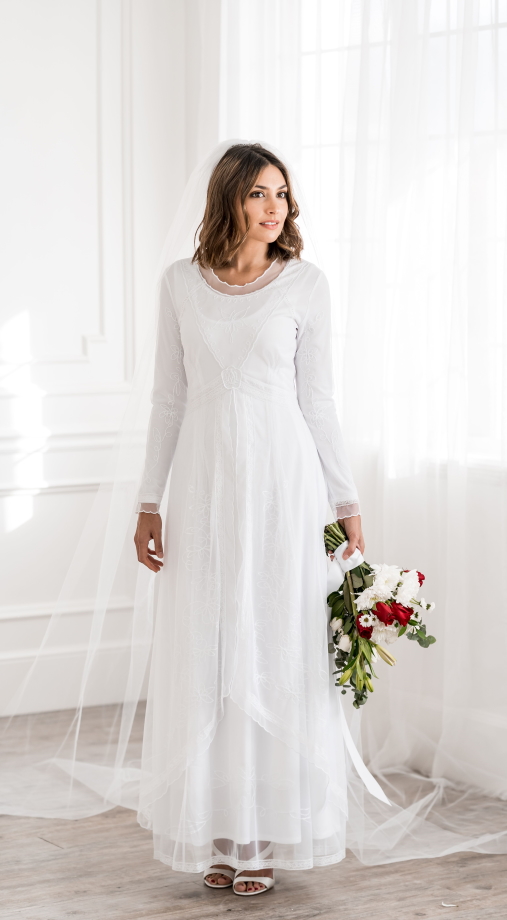 Every bride loves the romance of Marseille.  From the floral embroidered skirt panels to the pintuck pleats at the waist, this dress is a dream.  Inspired by vintage photography from the Edwardian Age you will be impressed with the delicate laces, embroidered scalloped edged fly-away skirt front, and neck.  Equal attention was paid to the sleeves and dress back.  You will feel beautiful from every angle.
This white English net dress has a modern fit with two side pockets and a lightweight knit lining – the best of vintage craftsmanship paired with all the ease and comfort a woman expects from her clothing today.
Pair this modest wedding dress with a traditional veil or headband.  This dress does not require embellishing – we've done it all for you.
London Bridal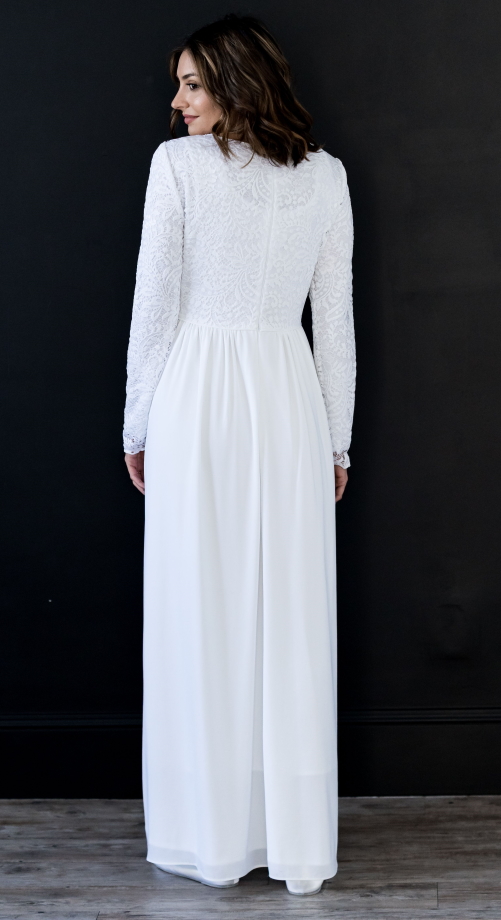 For the bridge with a boho flair, the London Bridal's dreamy stretch lace and empire-waist are perfect for every figure.  The chiffon skirt is delicately gathered at the top of the curved waistline front and back – leaving the sides silky smooth to float down the aisle.
This architecturally superior column dress lengthens every stature.  The curved waistline that is finished with satin piping lifts the eye and accentuates your assets.
You may be able to tell that we hand sewed a few glass seed beads into this gorgeous lace bodice to add a little sparkle.  Then all we added was a cut tulle veil and we were done.  Perfection!
Savannah Bridal Couture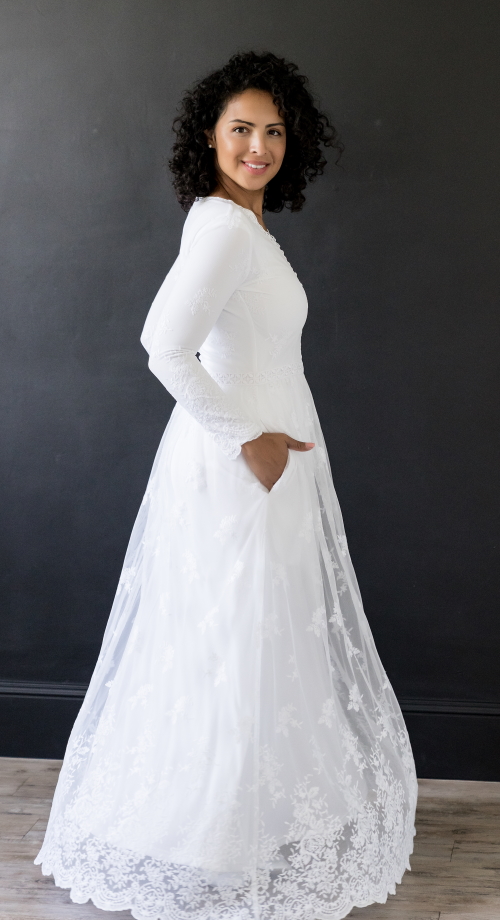 This gorgeous embroidered dress has everything you're looking for.  The V-neck, waistline, and center front bodice are all finished in a stunning rayon leaf-patterned trim lace.  The sleeves and hem are finished in soft-to-the-touch scalloped floral embroidery.
The fit is perfect and is available in sizes XXS to XXXL.  Botanical lace overlayed bodice includes a few perfectly placed darts to nip in the waist.  The Savannah has a gentle A-Line skirt with the lace gently gathered into the waistband.
We added "couture" to its name because of all the time and effort that goes into every stitch of this beautiful dress.  Each sleeve and skirt panel is created and cut to finish in exquisite scalloped edge embroidery. There's nothing else like it.  All the laces were custom created for White Elegance.  We searched the world over for artisans that could bring you affordable, comfortable elegance.
Say Yes to Your Forever Dress at White Elegance
With a wide range of affordable wedding dresses to choose from, it is time to get started.  Whether you are ready to add these wedding dresses to your cart or want to come into one of our two Utah locations to try one on, White Elegance is here to make your dream wedding come true.
You can also find other items on your wedding to-do list, including LDS temple dresses, beautiful skirts, and blouses to wear to your wedding luncheon, accessories, temple luggage, and more.
All these items are meticulously crafted with easy-care, washable fabrics to resist wrinkles, so you won't need to pull out the iron halfway through the big day.
Make your wedding day perfect by shopping for affordable wedding dresses at White Elegance.