The search for a wedding dress can seem overwhelming. Which dress style will look best on your body type? Do I want a lace gown with long sleeves or a simple, white dress? Utah brides have so many beautiful, affordable options. Even if you have a Pinterest board loaded with inspiration pictures, finding the dress you will wear on your big day can be more complex than you originally planned.
In Utah, many brides narrow their search by focusing on key aspects. Utah bridal shops are noticing brides choosing trends that are minimalist, modest, and affordable. For example, local interest charts for "modest wedding dresses" on Google put Utah at the top spot.
Modest wedding dresses are a staple in Utah's bridal industry (and with good reason). A majority of brides getting married in Utah are part of the Church of Jesus Christ of Latter-Day Saints. These brides are expected to wear modest wedding dresses according to the Temple standards. Even brides that aren't part of the LDS community are inspired to wear modest wedding dresses because of the widespread trend.
Since many brides visit our Utah dress shops to find modest temple gowns and dresses, we keep a wide selection of beautiful options and styles for even the most discerning bride. Two other trends in Utah's current wedding dress market are minimalist and affordable. If you are interested in finding a wedding dress that checks all of these boxes, here are a few White Elegance dresses to consider.
Popular White Elegance Modest Wedding Dresses
Venice Bridal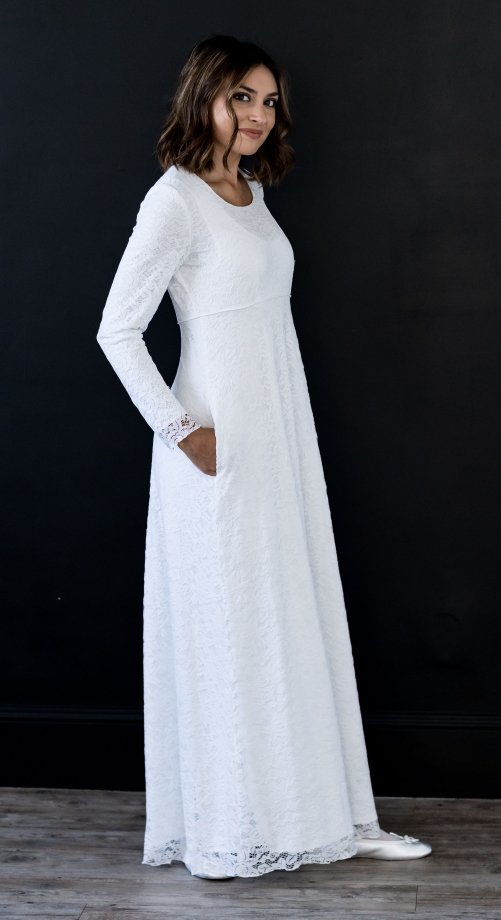 An all-stretch lace dress that is fully lined is the perfect pick for your Utah wedding dress. The Venice Bridal wedding dress comes with a lace overlay and full-length sleeves, making this simple wedding dress is ideal for a minimalist wedding. It has pockets, too—a major win in our eyes.
The style also features an empire waist with satin piping for an A-line silhouette that looks good on nearly every shape, including plus and tall sizes. This wedding dress comes in a range of sizes, including XXS-0/2 to 2XL-24/26.
You can easily accentuate this modest wedding dress with beading, pearls, or rhinestones for added flair or leave it plain to keep things as minimalist as possible. No matter which way you style it, the Venice Bridal will be simply elegant on your wedding day.
Holland Bridal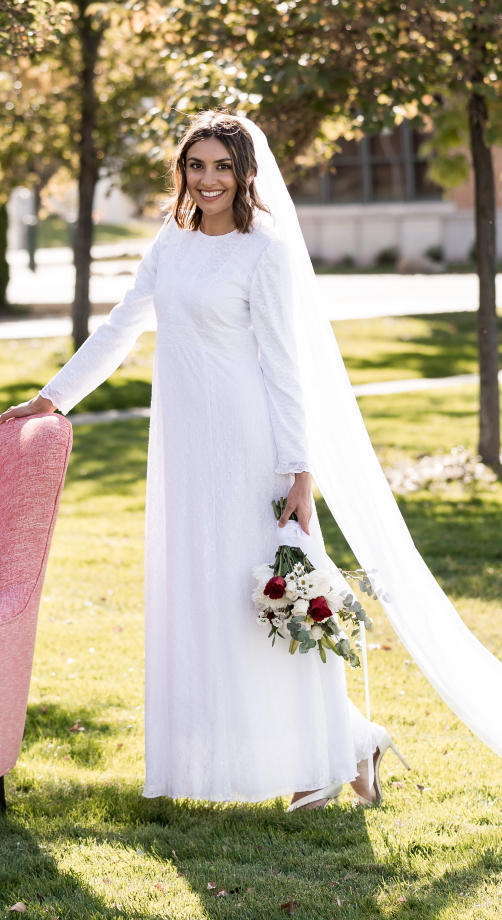 Long sleeve wedding dresses are the epitome of grace. The Holland Bridal is our timeless, regal wedding gown for brides who love the modest look. Featuring an all-lace design, the Holland will fit your shape through bodice and waist but flair out with an A-line skirt.
The dress's delicate trims also accentuate the bodice with a slightly dropped back waist for an elongated look. It is fully-lined with comfortable material, including two-side pockets for the important lipstick and tissues you'll need on your wedding day.
This ultra-modest wedding dress will work well for LDS brides to wear during their temple ceremony and throughout the day, thanks to its long-sleeves and full-length skirt. It also comes in a range of sizes, including XXS-0/2 to 2XL-24/26 for petite and plus-size brides.
You won't have to skip a long sleeve wedding dress if you're getting married in warmer months either—the delicate fabric and lace will keep you cool enough for a midsummer wedding.
A Simple Affair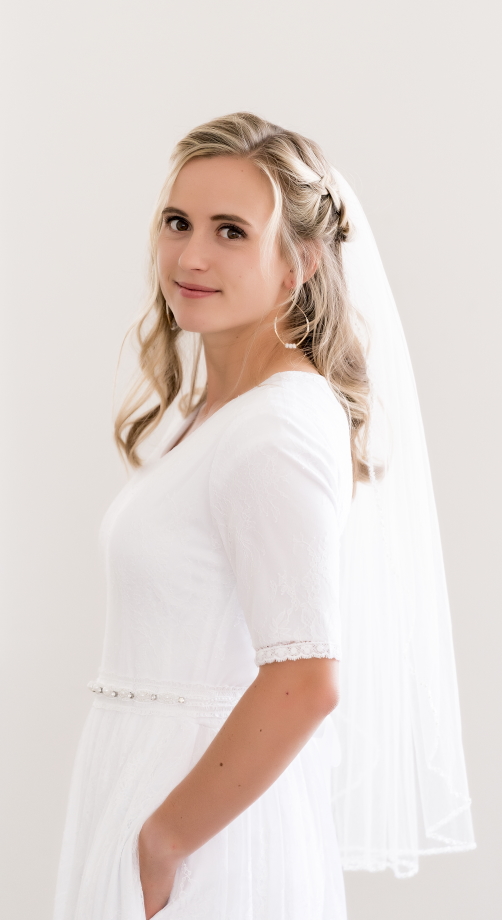 $79.00 – A Simple Affair Bridal Dress
Just because you can't spend a lot on your wedding dress doesn't mean it won't be beautiful. A Simple Affair is an affordable wedding dress for brides sticking to a budget. Save your precious dollars with this beautiful three-quarter sleeve length dress. A Simple Affair features a delicate lace overlay and a v-neckline.
You can even work with the White Elegance tailors to tailor the dress according to your desires. For example, easily alter the sleeve length to a long-sleeve, quarter-sleeve, or cap-sleeve. Along with customizing the style, you can add accessories to make it your own.
Our team often recommends finding rhinestone belts and headbands on Etsy or make your own from items found at most craft shops. We love to attach rhinestones and pearls to white ribbon and tied in the back to add shape to the design and style.
Tips for Finding the Right Wedding Dress
Our team of wedding dress experts created a wedding dress checklist to explore to narrow down your options before you get started. Here is what you should know before looking.
Determine Your Budget – Understanding your price limits before shopping ensures you only try on wedding dresses you can afford without falling in love with one outside of your budget limits.
Think About Location – Many Utah weddings include an LDS temple ceremony and reception. Decide whether you will wear a separate white dress in the temple or need to find one to match specific modesty requirements. If you are holding a ceremony outside, you will need to think about the comfortability and other location factors.
Consider the Temperature – Along with location, you will need to consider average temperatures around the set wedding date you set. For example, winter brides may want to consider long-sleeve wedding dress options, as well as separate accessories for added warmth.
Accessorize – Speaking of accessories, many Utah brides have family heirlooms, specific jewelry, or shoes they want to wear on their big day. If you know that you want to wear a certain accessory, take it as you shop to ensure it matches your chosen dress.
Get Inspired – Use the internet to your advantage to find inspiration for your wedding dress and wedding décor. Find pictures from Pinterest, Instagram, and other websites, compile photos from weddings you like, and round up fabric swatches to help influence your decisions as you shop. You can compile them on your phone or in a blank book to show dress shop staff.
Doing these things before dress shopping will reduce frustration and ensure you get the dress of your dreams.
We Are Here to Help
With a few options and ideas under your belt, it is time to get started. Whether you love the modest wedding dresses included above or want to keep searching, White Elegance is the Utah dress shop for you. View our full selection of affordable and modest wedding dresses that perfectly complement any Utah bride.
Find everything you need to make your wedding day complete at White Elegance. Shop online or visit us in-store.